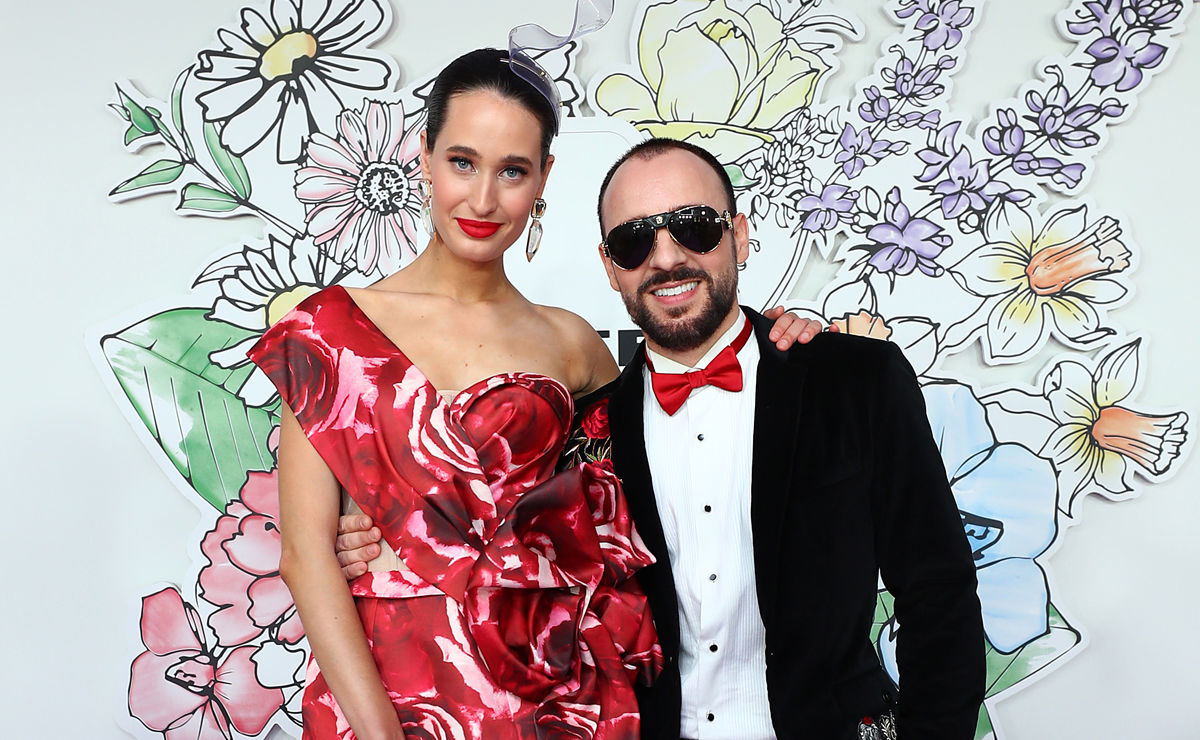 Jason Chetcuti with his winning design in the 2019 Myer Fashions on the Field Emerging Designer Award on Lexus Melbourne Cup Day at Flemington Racecourse.
A winning vision from Jason Chetcuti
Having trained at the prestigious Paris American Academy in France and most recently working in the haute couture atelier of international design duo Ralph and Russo, Chetcuti brought a touch of the Parisian runway to Flemington in 2019 with his winning design.
Tell us about your background in design and what motivated you to enterthe Emerging Designer Award.
I began learning dressmaking as an after school apprentice with a local dressmaker in the town of Mackay. She taught me to cut patterns, dress make, embroider, tailor and all applications for beautifully made clothing. I travelled to France and studied Haute Couture at the Paris American Academy.
When I returned to Australia I landed my first job in Sydney at Anthony Phillips Costumes, textile sourcing for a Belle Shakespeare Theatre production.
I started a bridal studio working out of my garage at Kensington, and then the business grew to a retail premises on Crown Street where I retailed streetwear and couture evening gowns for a period of four years, dressing Jessica Simpson, Parker Posie and many celebrities for red carpet events. I decided I wanted to live and work in London, and secured a job working in the Haute Couture Atelier at Ralph and Russo's South Kensington workroom. I worked on dresses for Angelina Jolie and Penelope Cruz.
I returned to Australia and was inspired to create a stunning Melbourne Cup dress for the Myer Fashions on the Field Emerging Designer competition and was thrilled to have won.
How would you describe your design style?
I design garments that are romantic and feminine. I want the women who wear my designs to feel a sense of beauty, empowerment, femininity, refinement and elegance. I choose fabrics that work with the body and drape beautifully. When I design, I am thinking about the way the design will "walk" or move on the body. Structure and silhouette are key elements for the Chetcuti women. Racewear is a genre where I can fully express the vision from head to toe.
What was the inspiration behind your winning design?
I created a design inspired by the romantic beauty of the rose. When I purchased my fabrics, trims and accessories I was delighted to find the most beautiful, exotic fabric which reminded me of the grand entrance to Flemington Racecourse. The stunning hues of blush pink and ruby captivated my imagination and I knew I had to make a sculptural rose-design dress.
What do you think the judges saw in your piece to make it a winner?
I feel the judges connected with my design because it is a beautiful representation of the woman. Confident, elegant, fashion forward, sophisticated and strong.
How did it feel when you were announced as the winner of the 2019 Emerging Designer Award?
I felt so elated, it was one of the most happiest and exciting experiences of my design life to date. What could be better than being a winning designer of Fashion on the Field at Flemington on Melbourne Cup day.
What's your plan for the next 12 months?
My plan for the next 12 months is to really focus on what I love about fashion and really immerse myself in the world of Haute Couture and fine craftsmanship. I have a love of textiles and creating beautiful prints. I have a whole collection happening in my mind and I would love to work on this collection and release a beautiful, new vision to the fashion world. I can see myself working between Europe and Australia again.
What advice do you have for anyone entering the 2020 Emerging Designer Award?
My advice would be to create and work on a look that is exceptionally beautiful and exceptionally well executed. The best advice came from one of my friends who is absolutely passionate about fashion. He said "Jason, your design must be executed to a level which rivals Chanel or Dior Haute Couture". I used a sewing machine to stich several seams of the corset, and then I began pattern matching roses on the dress fabric with the same level of skill that a master tailor matches suit checks.
I found some amazing clear heels, and clear handbag and awesome clear sculptural earrings. I decided I needed a clear acrylic fascinator headband hybrid to totally complete the look. I was also fortunate to secure stunning Melbourne model Emily Thomas who brought my vision to life. Jo Smith from Toni and Guy, who was hairdresser of the year, skilfully set the fascinator into place, and makeup artist Shev Kelly completed the look with the latest make-up trends.
Anything exciting that you might like to share that has happened over the last 12 months since winning the Emerging designer Award?
I have met some amazing race people who have connected with me and my work over the last 12 months and winning the award has increased my exposure in the Australian design arena. My colleagues in Europe were so excited that I won the competition.