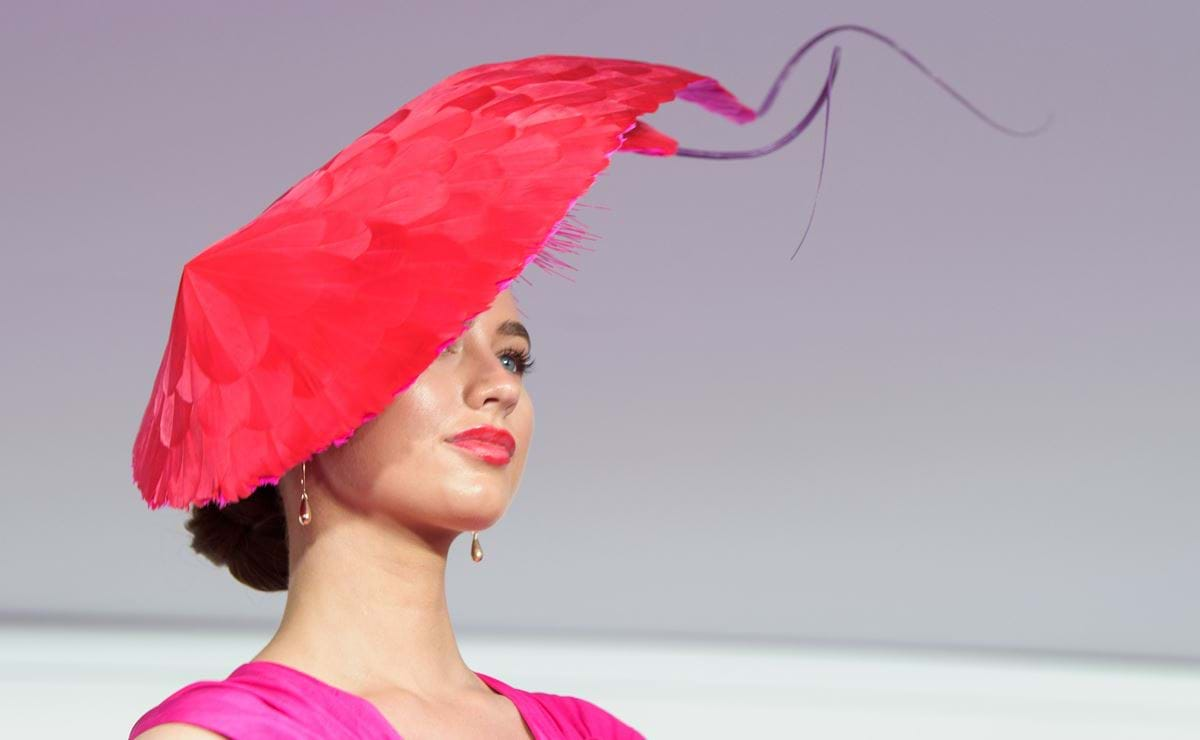 Cynthia Jones-Bryson's winning headpiece in the 2019's Myer Fashions on the Field Millinery Award at Flemington Racecourse.
Hats off to Cynthia Jones-Bryson
No stranger to the Myer Fashions on the Field stage, Cynthia Jones-Bryson first won the Millinery Award in 2015. In 2019 the talented milliner was successful again with a sculptural, textural and colourful piece that the judges could not ignore.
How would you describe your millinery style?
Millinery is my art, my passion, my addiction. I hope my style reflects this. I treat each piece as a work of art which often takes many hours to create. I love playing with shape and form to achieve a strong feminine and fluid line. My style also reflects that I am not afraid of colour and often mix non-conforming colours for a touch of fun and the theatrical.
Please describe your winning design and materials used.
The headpiece has a unique shape, a variety of feathers in bold colours of red, neon pink and a small touch of purple in the quills. It towers high, sitting to the side and looks quite dramatic at every angle.
What was the inspiration behind it?
I wanted a very feminine shape with organic fluid lines, so I did a lot of experimentation. The Robert Palmer video clip Simply Irresistible with the stunning models wearing red, pink and a touch of purple was where I drew inspiration for the colour combination.
What is spring racing season usually like for you?
It's usually hectic to the point of crazy – which I imagine most milliners would agree. I create a range of 20-40 pieces which is photographed for my website well before the Melbourne Cup Carnival. This year I created 60 bespoke pieces.
What was the design and production process like, and how long did it take to create?
I did a number of sketches and made up a few prototypes. Once I decided on the final shape I made it in black and white. Then I decided it needed to be in colour. So I made it the red and neon pink. All up it took about 60 hours.
What do you think the judges saw in your piece to make it a winner?
I'm hoping that it really just went 'wow' to them. The shape was very unique and the bold colours really did make it stand out. The matching dress in red with neon-pink straps, purple shoes to tie in with the quills and a neon-pink bag all combined for a great ensemble which was modelled beautifully.